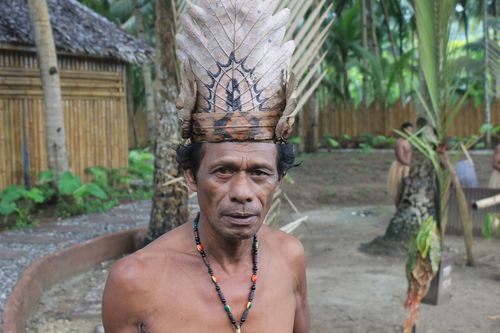 LORNA VILLAS
Ulbujan, Calape Business:  Snack Vendor
Loan Amount: 8,000 pesos (about $190)
Previous Loan: 5,000 pesos (about $100) 
(Exchange rate : One US dollar =  47 Philippine Pesos) 
Lorna is a quiet-spoken 47-year-old mother of 7 children ranging from ages 6 to 26.   Three are still in school while one stopped going to college so she could help take care of the youngest while mom worked. Lorna is also the grandmother of three.  Her husband is a 63 year-old retired government laborer who receives a small pension.
We found Lorna sitting at her corner public market stall consisting of a table and a small wooden bench. She likes her stall since she can easily move it around when it rains, or it's too hot, or when it's market day Thursday. She is at the market everyday selling assorted native snacks of boiled and sweetened taro, cassava, sweet sticky rice, peanuts and popcorn. Her bestseller is the "pao" or taro .  To get the pao and cassava ready for market, she gets up at 2 a.m. (after going to bed at 11 p.m.) and with the help of her children, peels, cooks, and packages them.  Then she also prepares the other snacks. She is usually at the market at 9 a.m.
Lorna rents her stall for Php1,200 a month and another 10 Php daily.  She figures that she grosses an average of  Php2,000  a day (about $43) and less expenses, she nets 1,000 pesos (about $20).  She makes more on Thursdays, which is "market day" when other vendors and buyers descend on the market from neighboring towns and barrios.
Lorna got her current loan as additional capital for her business. She pays Php750 weekly and Php100 daily to the cooperative collector.  She has not missed a payment and in fact, pays a little extra daily so she can repay her loan earlier than the allotted three months.  We did find it a bit disturbing that as we were talking to her, a "five-six" moneylender they call Bombay (he is Indian) came around to collect from a neighboring stall. The moneylender charges 20% interest but the vendors still borrow from him because it available quickly.  The coop staff talked to her about expediting loans.
When asked what aspirations she has for her future, Lorna first answered lightly, "Make sure my family eats three times a day, plus one snack!" Then she added that it is hard to climb up when you are down below.  Her home was totally damaged in the 2013 earthquake and they are living in a Habitat for Humanity house.  They are trying to rebuild their house but there are no walls yet.
We could not help but be impressed by Lorna's humility, quiet strength, and dedication.  After she is done selling in the afternoons, she is usually off to her other job as "manghihilot" or a native healer. She gives massages ("hilot") and is often called to assist women in labor in their homes.
 JULIETH APARACIO
Cantomucad, Loon Business:  Ukay-ukay Vendor (Used Clothing)
Loan: Php 5,000 (about $100)
We found Julieth partially hidden among a ceiling-full of hanging shirts and two bamboo benches piled with an assortment of used clothing.  She is a 49-year old mother of a child who
just recently graduated from college. Her husband is disabled- he used to be an engineer but fell ill to a liver disease, which for a time required dialysis.
Julieth borrowed money as additional capital for her business.  She gets her supply of used Korean and US clothes from a dealer in Cebu City.  Twice a month, she calls her dealer to send her two bundles of assorted clothing. Each bundle costs Php8,000 ($190).  She pays additional money for the two bundles that are delivered by boat.
When asked how much she made per bundle, she was a little stumped.  She replied that the old and new inventory get all mixed together.  She just knew she made enough profit to keep the business going for the last 20 years to support her family, send her child to college, pay hospital bills and hire two helpers.  But she did know that on the day of new arrivals, she can gross about Php5,000 and make an average of Php1,000 daily.  The newer arrivals are hung up in hangers from the ceiling while the older clothes are on the benches for customers to "ukay" or sort through.  Each piece can cost from between Php40-100.
One of the coop staffers mentioned that one of the advantages of taking out a micro loan from the cooperative is that there is a built-in "forced savings" as well insurance (loan, accident and life) for the duration of the loan.
Julieth would also like to rebuild her house, which was badly damaged in the quake, and continue supporting her family.  Julieth's shy and unassuming  demeanor belie the fact that she is another enterprising and determined woman among the many in the public market.
BERNARDITA CUBELO
Binogawa, Calape Business: Vegetable
Vendor Loan: Php8,000
Bernardita's corner stall is colorful and attractive—it is overflowing with fresh vegetables like green string beans, carrots,  ampalaya, red onions and peppers. She also sells fresh and dried pancit noodles as well as cooking supplies. She was briskly tending to one customer after another as we attempted to interview her.
Bernardita is a 57-year old mother of five children.   Only one child is in college as the boys didn't want to go.   She seemed like a confident and pragmatic woman and we quickly found out why.  Bernardita is a single mom who was separated from her husband 30 years ago. Her vegetable business has been her main source of livelihood.   She travels twice a week to get her supplies in Tagbilaran--the provincial capital--a two-hour ride away, and in Cebu City- an hour boat ride via the port of neighboring Tubigon.
We observed that Bernardita had sheets of paper tucked to a post.  We didn't see much money changing hands when she was attending to a customer who had a big order. Instead, she wrote on one of the sheets of paper. We assumed she extended credit to her bigger customers.  She said she can gross Ph12,000 on a busy day and make a net profit of Php8,000, quite an impressive amount for a small town market vendor.
As we left, her well-stocked stall was starting to attract more customers and the market was starting to buzz with newly arrived vendors unloading and sorting sacks of garlic and onions getting ready for next day's market day.
FE RUIZOL
Liboron, Calape Business- Home Service Beautician
Loan: Php 8,000.00 
We walked up to the second floor of the public market to find Fe at her regular job as a beautician and manager of a beauty parlor.  She was giving a customer a haircut while she quietly answered our questions.
Fe is a youthful-looking 41 year old mother of three: 23, 19, and 18 years old, respectively.  The oldest just graduated from college and is working while the two are studying in college.  Fe had moved from her home province of Samar to Bohol after she got married.   Ten years ago, her husband passed away and she became the sole breadwinner for her family.
At the beauty shop, she earns by commission and on an average day, she can take home between Php1,000-2,000. But on slow days, it may be as low as Php 300-400.  To augment her income, she offers home services (hair-styling and make-up for weddings, manicures and pedicures). She took out the loan as additional capital to buy supplies for her business.  If she makes Php1,500 doing home service, she can make a profit of Php700.
Again, we were impressed by Fe's entrepreneurial spirit as she single-handedly provides for her children daily needs and their education. Her youngest child is only a college sophomore in Cebu City and that can be financially challenging with tuition, board and lodging, and allowance.
ARLENE TUSOG
Pondol, Loon Business- Dry Goods Variety Store Previous
Loan: Php5,000.00
Current Loan: Php2,600 ($64)
When we met Arlene, she was holding her fussy one-year old baby who had just been hospitalized.  Her small stall in the interior part of the market was hot and dingy—lighted only by a single fluorescent blub.  Arlene is a 38-year old mother of six children ranging from one to 17 years old.  She and her husband have had their business of selling assorted goods-
from shoes, clothes, school supplies and pirated DVDs-- for the last 15 years.  On average, they can gross over Php1,000 a day, of which Php300 (about $7) is net. On market day Thursday, they can gross Php3,000.00 of which Php1,000 ($20) is net.  Considering Arlene and her husband are supporting six children, a daily average income of less than $7 a day is hardly sufficient.  An illness like the one their youngest child had can easily set back the family.
The 2013 earthquake resulted in the total destruction of their house.  This family with young children lived under tarps for two years.  Only this past year did they get move into temporary housing provided by the Red Cross.  They are trying to add an extension to their current house by using some construction materials provided by the government.  However,  the materials have not been enough.  They have plywood walls set up but they still need roofing materials.
This family represents the resilience, patience, hard work, determination and positive attitude of the Boholanos.   And we left the market amazed and inspired by the unassuming, strong and enterprising women we just met.