Loan Recipients in the Dominican Republic – Evan Lory
June 21, 2023
I recently had the privilege of traveling to the Dominican Republic to deliver funding for loans for female business women. While there, I met many loan recipients and learned about the kinds of businesses that are being funded.
Nataylis is a talented 24-year-old who runs her own hair salon in the small community of La Piedra. For many Dominican women, natural long hair is not common, but they still wish to enhance their beauty with extensions or coloring. A beauty salon is a successful addition to the La Piedra community.
With her loan, Nataylis purchased new extensions and hair coloring products, which allow her to expand her business. During my conversation with her, I was impressed by her determination and passion. She works out of her home to save on costs and learned by doing, which is the common way for people in La Piedra. She plans to offer her services for 1700 Dominican pesos, which translates to approximately $30 US.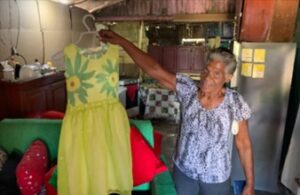 As a mother of two children, Nataylis is committed to providing for her family. Like so many other people in La Piedra, her job prospects are few, so she has risen to the challenge by creating her own business.
I also met Anita, a passionate entrepreneur in La Piedra. Running a diverse shop, catering delicious food to various events, and even being skilled in sewing and selling her own clothes, she is truly a jack of all trades. 
During my visit with Anita, I witnessed her kindness and culinary skill firsthand. She warmly welcomed us into her home and gave us a tour of her shop, showcasing her incredible collection of goods. Not only did we experience her hospitality, but she also provided lunch, which was delicious. My father, a few fellow students on a study abroad program, and I were treated to local, seasonal dishes that were delicious, and not what we would find at the resort we were staying at. It was a true delight to spend time with this successful entrepreneur.